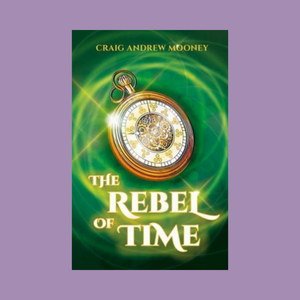 Craig Andrew Mooney
The Rebel of Time - Pre-order
Regular price
£9.99
£0.00
Unit price
per
Tax included.
Pre-order a copy of Craig Andrew Mooney's brilliant adventure story The Rebel of Time, ahead of his visit to Knox Academy on Tuesday, 12th December.

Copies will be available for collection from the school library during break on Tuesday 12th December, when Craig Andrew Mooney will be signing copies for pupils.

If you would like to pre-order a copy for your child to collect and have signed on the day, please:

- add the book to your basket
- click on 'Add a note to your order'
- write their name in the box 'Special instructions for seller'

* Deadline for pre-orders: 5pm on Thursday, 7th December *
About the book:
Doran West can travel through the ages. But so can his enemies... Welcome to the one-street village of Linntean in the Scottish Highlands.

It's great for tourists, less so for local teenager Doran West. He and his best friend Zander crave a change of scenery, some excitement. What they have in mind is a weekend away to the nearest city.

Fate has a little more in store. An accident while fleeing school bullies leads Doran to an extraordinary discovery: he can travel in time. What's more, he isn't alone.

There are others who share his gifts, hiding in plain sight and tied to a shadowy organisation called the Eternalisium. With Zander in tow, he embarks on a terrifying odyssey through the ages, risking death on the gallows and battlefield, contending with ruthless enemies from the future and learning more than he'd like about his own adult self. Mind-bending, thrilling and funny, The Rebel of Time bounces from Robert the Bruce's Bannockburn to Leonardo Da Vinci's Tuscany, with stops in Hollywood and the First World War trenches, in a spellbinding adventure from a masterful new storyteller.
Paperback, published 2023.
---