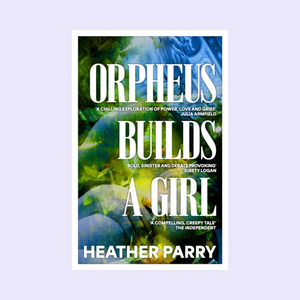 Heather Parry
Orpheus Builds A Girl - Signed Copy
Regular price
£9.99
£0.00
Unit price
per
Tax included.
A signed copy of Orpheus Builds a Girl, the debut novel by award-winning author Heather Parry, based on a chilling true story.
About the book:
Wilhelm von Tore is dying. As he looks back on his life he reflects on his upbringing in Dresden, his beloved grandmother and his medical career during the second world war. But mostly he remembers his darling Luci, the great love of his life, his dark-haired beauty promised to him in a dream years before they met.

Though only together for a few months in her first life, their love is written in the stars. Using scientific research compiled over decades, Wilhelm ensures that, for him and his beloved, death is only the beginning. But through the cracks in Wilhem's story there is another voice, that of Gabriela, and she will not let this version of events go unchallenged.

She tells the story of her sister Luciana, fearless and full of life, and the madman who robbed her from her grave.
Paperback, 320 pages, published 2023.
---