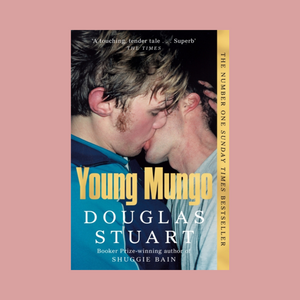 Douglas Stuart
Night Owl Book Club - Young Mungo - Monday 8th May
Regular price
£9.99
£0.00
Unit price
per
Tax included.
Join us for our Night Owl book club event for Young Mungo, the second novel by Booker Prize winning author Douglas Stuart, on Monday, 8th May, at 8pm.
Purchase a copy of Young Mungo from Night Owl Books and receive a free ticket for our book club event - while spaces last!
Copies of the book will be available for collection from its publication day in paperback on Thursday, 13th April - select 'local collection' at the checkout if you would like to pick up your copy from Night Owl, or alternatively select a shipping option to have the book posted to you.
About the book:
The extraordinary, powerful second novel from the Booker Prize-winning author of Shuggie Bain, Young Mungo is both a vivid portrayal of working-class life and the deeply moving story of the dangerous first love of two young men: Mungo and James. Born under different stars, Protestant Mungo and Catholic James live in a hyper-masculine world.

They are caught between two of Glasgow's housing estates, where young working-class men divide themselves along sectarian lines, and fight territorial battles for the sake of reputation. They should be sworn enemies if they're to be seen as men at all, and yet they become best friends as they find a sanctuary in the doocot that James has built for his prize racing pigeons. As they begin to fall in love, they dream of escaping the grey city, and Mungo must work hard to hide his true self from all those around him, especially from his elder brother Hamish, a local gang leader with a brutal reputation to uphold.

But the threat of discovery is constant and the punishment unspeakable. When Mungo's mother sends him on a fishing trip to a loch in western Scotland with two strange men behind whose drunken banter lie murky pasts, he needs to summon all his inner strength and courage to get back to a place of safety, a place where he and James might still have a future. Imbuing the everyday world of its characters with rich lyricism, Douglas Stuart's Young Mungo is a gripping and revealing story about the meaning of masculinity, the push and pull of family, the violence faced by so many queer people, and the dangers of loving someone too much.
Softcover, 400 pages, published 13th April 2023.
FAQs
- I already have a copy of Young Mungo - is it possible to get a ticket without the book?
No problem! Please let me know by writing a note when adding the ticket to your cart (click 'Add a note to your order', and write a message in the box before checking out). You'll receive a credit of £9.99 to spend on another book of your choice at Night Owl.
- Where will we be meeting?
The event will be held at Night Owl Books, 1 Bridge Street, East Linton, EH40 3AG.
- We'd like to attend as a couple and share a copy of the book - is that possible?
Of course! Please select two tickets, and let me know by writing a note when adding the ticket to your cart. You can pick up one copy of the book from Night Owl and receive a credit of £9.99 to spend on another book of your choice.
A note on Covid precautions: if you can, please take a lateral before attending, and if you feel unwell on the day, please err on the side of caution.
---