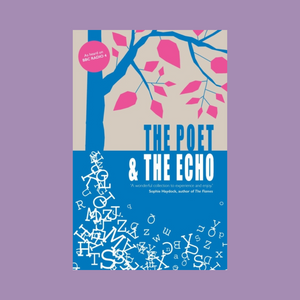 Night Owl Books
Night Owl Book Club - The Poet & The Echo - 20th November
Regular price
£8.99
£0.00
Unit price
per
Tax included.
Join us for our Night Owl book club event for The Poet and the Echo, a short story collection by contemporary Scottish writers responding to classic poems, including Jenni Fagan, Hannah Lavery, and David Almond.
Purchase a copy of the book from Night Owl Books and receive a free ticket for our book club event on Monday, 20th November, at 8pm - while spaces last!

If you would like to pick up your copy from Night Owl, please select 'local collection' at the checkout, or alternatively select a shipping option to have the book posted to you.

About the book:
Ten powerful and intimate tales inspired by classic poems. The book includes Jenni Fagan taking inspiration from Anne Finch, Jessie Greengrass from Christopher Smart, Leila Aboulela from Rumi, David Almond from Robert Louis Stevenson and six other brilliant works.

From the majesty of the Scottish highlands to the lakeside gardens of an Italian palace, from a secondary school under inspection to a spa-break from care work, this array of lyrical stories convey us across ten fictional worlds, to ask the most intimate questions; how do we balance love and duty? How do we manage in the face of family secrets? When we change while others don't? When loved ones are taken from us by old age, by mental illness and even by force?

Ranging across centuries and continents, these beautiful stories show the united wealth of our common humanity, a reminder that love and hope spring in the unlikeliest of places. A collection of new stories and classic poetry from Horace, Rumi, Christopher Smart, Phillis Wheatley, Anne Finch, William Blake and WB Yeats amongst others.

Paperback, 128 pages, published September 2023.
FAQs
- I already have a copy of The Poet & the Echo - is it possible to get a ticket without the book?

No problem! Please let me know by writing a note when adding the ticket to your cart (click 'Add a note to your order', and write a message in the box before checking out). You'll receive a credit of £8.99 to spend on another book of your choice at Night Owl.

- Where will we be meeting?
The event will be held at Night Owl Books, 1 Bridge Street, East Linton, EH40 3AG.
- We'd like to attend as a couple and share a copy of the book - is that possible?

Of course! Please select two tickets, and let me know by writing a note when adding the ticket to your cart. You can pick up one copy of the book from Night Owl and receive a credit of £8.99 to spend on another book of your choice.
A note on Covid precautions: if you can, please take a lateral before attending, and if you feel unwell on the day, please err on the side of caution.
---