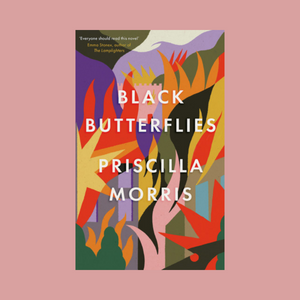 Night Owl Books
Night Owl Book Club - Black Butterflies
Regular price
£16.99
£0.00
Unit price
per
Tax included.
Join us for Night Owl's monthly book club event, on Thursday, 16th June, at 8pm!
We'll be meeting in a small group to discuss Priscilla Morris's debut novel Black Butterflies, which has been selected by Books Are my Bag as the Indie Book of the Month for May.
Tickets include a copy of the book (RRP £16.99), plus a cup of freshly brewed tea or coffee (decaff available!) to enjoy as we talk about this fascinating read.

Select 'local collection' to pick up your copy from Night Owl. Alternatively please select a Royal Mail option, and I'll arrange for a copy to be shipped straight to you. 
- I've already read/already have a copy of Black Butterflies - is it possible to get a ticket without the book?

No problem! Please let me know by writing a note when adding the ticket to your cart (click 'Add a note to your order', and write a message in the box before checking out). You'll receive a credit of £16.99 to spend on another book of your choice at Night Owl.
- Where will we be meeting?
The event will be held at Night Owl Books, 1 Bridge Street, East Linton, EH40 3AG.
- We'd like to attend as a couple and share a copy of the book - is that possible?

Of course! Please let me know by writing a note when adding the ticket to your cart, and you can pick up one copy of the book from Night Owl and receive a credit of £16.99 to spend on another book/gift of your choice.

About the book:
The exquisitely crafted debut novel that captures life during the siege of Sarajevo.

Sarajevo, spring 1992. Each night, nationalist gangs erect barricades, splitting the diverse city into ethnic enclaves; each morning, the bemused residents - whether Muslim, Croat or Serb - push the makeshift barriers aside.
Zora, an artist and teacher, is focused on her family, her students, her attic studio in the old town.

But when violence finally spills over, she sees that she must send her elderly mother and ageing husband to safety with her daughter in England. Reluctant to leave her work, or to believe that hostilities will last more than a handful of weeks, she stays behind as the city falls under siege. As the siege deepens and everything they loved is laid to waste, black ashes floating over the streets, Zora and her friends are forced to rebuild themselves, over and over.

Inspired by real-life accounts of the longest siege in modern warfare, only thirty years ago, Black Butterflies is a heartrending and utterly captivating portrait of disintegration, resilience and hope.

You can also browse a selection of books that inspired Black Butterflies, selected and introduced by the author, on our Bookshop.org profile here.
Hardback, 256 pages, published May 2022.
A note on Covid precautions: if you can, please take a lateral before attending, and if you feel unwell on the day, please err on the side of caution. We will aim for the event to be fully in-person but will be as flexible as possible will hybrid arrangements if needed.
---