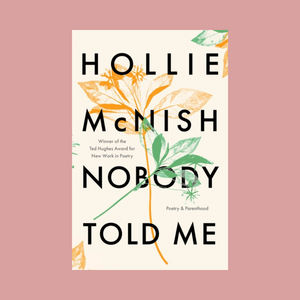 Hollie McNish
Signed Copy - Nobody Told Me: Poetry & Parenthood
Regular price
£9.99
£0.00
Unit price
per
Tax included.
A signed copy of Nobody Told Me: Poetry & Parenthood, which Hollie McNish kindly signed for us after her event at Fringe by the Sea!
About the book:
Winner of the Ted Hughes Award for New Work in Poetry
There were many things that Hollie McNish didn't know before she was pregnant. How her family and friends would react; that Mr Whippy would be off the menu; how quickly ice can melt on a stomach. These were on top of the many other things she didn't know about babies: how to stand while holding one; how to do a poetry gig with your baby as a member of the audience; how drum'n'bass can make a great lullaby.

And that's before you even start on toddlers. But Hollie learned. And she's still learning, slowly.

Nobody Told Me is a collection of poems and stories; Hollie's thoughts on raising a child in modern Britain, of trying to become a parent in modern Britain, of sex, commercialism, feeding, gender and of finding secret places to scream once in a while.
Paperback, 480 pages, published March 2020. 

---