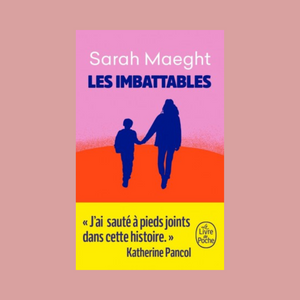 Night Owl Books
Club de lecture française - Les Imbattables, 1st March, 8pm
Regular price
£8.30
£0.00
Unit price
per
Tax included.
Join us for our second French book club event at Night Owl Books on Wednesday, 1st March, at 8pm.
We'll be meeting in a small group to discuss contemporary French novel Les Imbattables by Sarah Maeght - en français!

Tickets include a copy of the book, plus a cup of freshly brewed tea or coffee to enjoy as we meet and chat about the book in French.

Please note, I will be ordering copies of the book from France, with an estimated delivery time of 3-4 weeks, and will email you to let you know when your copy is ready for collection.

Select 'local collection' to pick up your copy from Night Owl. Alternatively please select a Royal Mail option, and I will ship a copy to you once they have arrived at the bookshop.
- What level of French is the book suitable for?

I'd recommend the book for anyone with around A-Level experience of the French language. We'll try to stick to speaking in French throughout the book club where possible, but the aim of the group is to provide a supportive space in which to enjoy reading and practising speaking in French - and the question 'comment dit-on en français...' is very much welcome!

- Where will we be meeting?
The event will be held at Night Owl Books, 1 Bridge Street, East Linton, EH40 3AG.
- We'd like to attend as a couple and share a copy of the book - is that possible?

Of course! Please let me know by writing a note when adding the ticket to your cart, and you can pick up one copy of the book from Night Owl and receive a credit of £8.30 to spend on another book/gift of your choice.
Quelques informations sur le livre:
Après ses cours de lettres à l'université, Victoire s'occupe de Basile. Elle a vingt-trois ans, il en a neuf. Victoire rêve de partir étudier aux États-Unis, Basile rêve d'avoir un ami, de visiter la maison de Prévert en Normandie. Il est pointilleux sur ce qui se fait et ce qui ne se fait pas, le « digne » et l'« indigne ». Elle vole dans les magasins, saute les portiques du métro et laisse l'horoscope décider de son humeur. Un lundi, Basile rate le car pour son voyage scolaire. Victoire doit rester avec lui, le temps d'une semaine qui va changer leur vie.
Softcover, 288 pages, published 2022.
A note on Covid precautions: if you can, please take a lateral before attending as a courtesy to other attendees, and if you feel unwell on the day, please err on the side of caution.
---