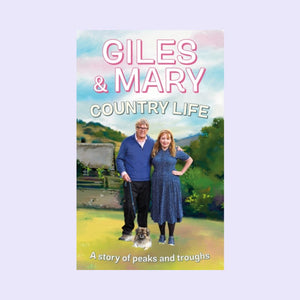 Giles Wood & Mary Killen
Signed Copy - Country Life
Regular price
£17.99
£0.00
Unit price
per
Tax included.
A signed copy of Country Life, which Giles & Mary kindly signed for us after their event at Fringe by the Sea!
About the book:
Are you considering escaping the city for a blissful new way of life in the countryside? Estate agents may be feeding you with persuasive visions of Arcadia, but realities are more helpful. Read on. Former townies Giles and Mary have embraced country life for over thirty years, each in their own different way.

Mary is more inclined to engage in the social opportunities offered by the local community. While Giles's pre-occupations include his organic no-dig veg patch and regenerative agriculture as 'the only method that could save the ecosystem from imminent disaster'. Together they sift through the unhelpful dreamy myths and offer their own, two-handed pragmatic reality, obtainable for all.

In robust back-and-forth exchange, they de-mystify every aspect of life in rural outposts, celebrating the peaks and navigating the troughs, from planning wars and ghost hunting to dog walking and bargain hunting. Join Giles and Mary in this book, as they share their hard-earned lessons to help us all find our own way to a new, contented country life, where perfect isn't the point.
Hardback, 256 pages, published April 2023.
---